3D Scanning System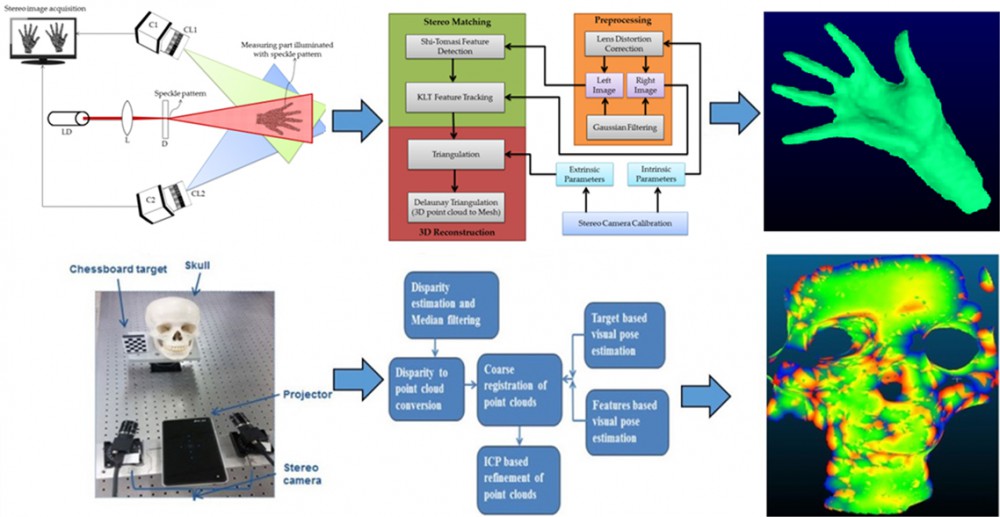 3D surface scanners have a great impact on medical research and real applications. Medical 3D scanners require higher precision than general 3D scanners. We have developed a 3D scanner that can acquire the 3D shape of the object by analyzing single stereo pair of the projected laser speckle pattern.We are working to build a compact and precise hand-held 3D sensor for medical applications that can generate the full 3D models of the desired areas by registration of multiple 3D point clouds. 
Khan, Danish, Muhammad Ayaz Shirazi, and Min Young Kim. "Single shot laser speckle based 3D acquisition system for medical applications." Optics and Lasers in Engineering 105 (2018): 43-53.
Ayaz, Shirazi Muhammad, Danish Khan, and Min Young Kim. "Three-Dimensional Registration for Handheld Profiling Systems Based on Multiple Shot Structured Light." Sensors18.4 (2018): 1146.
Khan, Danish, Ki Hoon Kwon, and Min Young Kim. "A motion robust 3d scanner for medical volumetry." 제어로봇시스템학회 국내학술대회 논문집 (2018): 86-87.
A.S. Muhammad. and M.Y. Kim. "Multiview registration-based handheld 3D profiling system using visual navigation and structured light," International Journal of Optomechatronics, Vol. 11, No. 1, pp. 1-14, 2017.